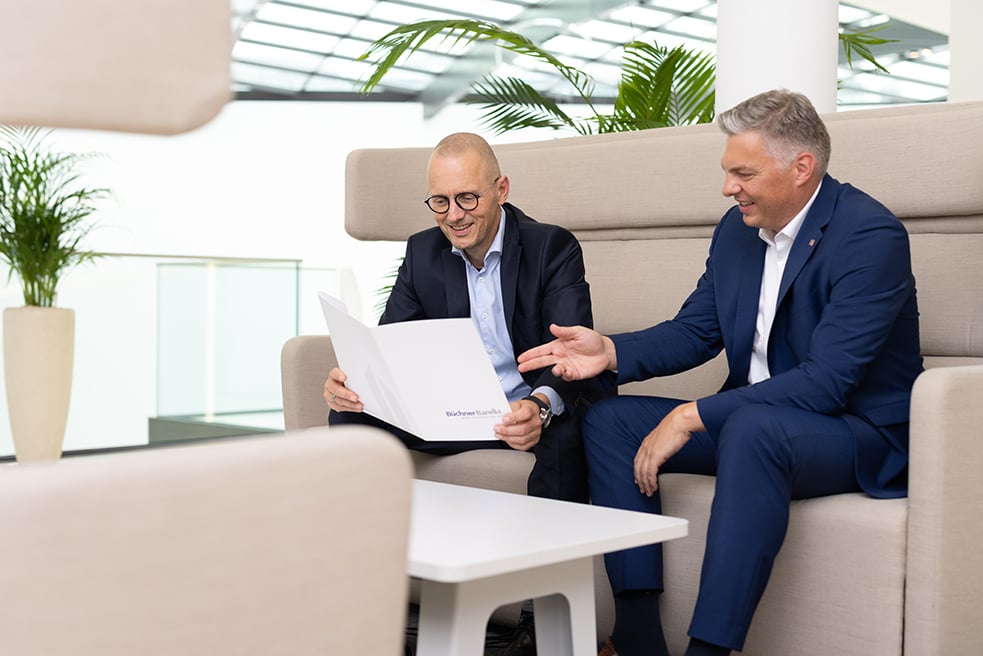 Insurance solutions
Insurance cover only makes sense when it is right for that company, i.e. when it is specifically tailored to your precise needs.
Get optimal cover with our innovative insurance solutions
At BüchnerBarella, we don't sell you 'any old' insurance or just a standard one that's off-the-peg. Instead, we first have a personal meeting with you in which we find out together what risks are hidden within your business. This is followed by a comprehensive analysis whose findings are used to minimise your risk.
Property insurance
Suitable for everything from a start-up business to a DAX-listed company. Protects your material assets, including against business interruption.
Liability insurance
Covers against financial risk arising from operational errors or production errors in the event of third-party claims, even if your company is operating abroad.
Technical insurance
Covers your technical and mechanical equipment. Including for planned construction or assembly work during the development period.
Vehicle insurance
Vehicle liability insurance is compulsory. However, there are many different options for insuring both your own vehicle fleet and your employees against the consequences of traffic accidents.
Cyberinsurance
Protection against cyberattacks and tampering with your IT infrastructure. 24/7 Accessibility of our 'IT fire service' in emergencies.
D&O (Directors & Officers) insurance
For all businesses where a body is personally liable. Our network of consultants and our own knowhow means: everything's under one roof for you.
M&A insurance
Professional support for M&A transactions. We take care of all the processes, all the way from brokering to final implementation.
Receivables hedging and financing
Secures outstanding items owed to your business against non-payment or insolvency. We work with a simplified auditing and acceptance procedure.
Provision management
Qualified tax law support for complex provision issues. Our advisors possess extensive market and product knowhow.
Transport insurance
Our pro-active risk and claims management service protects your goods against unexpected risks and the resulting financial losses.
'To promote digitisation and optimise processes: these are the biggest challenges facing our industry.'