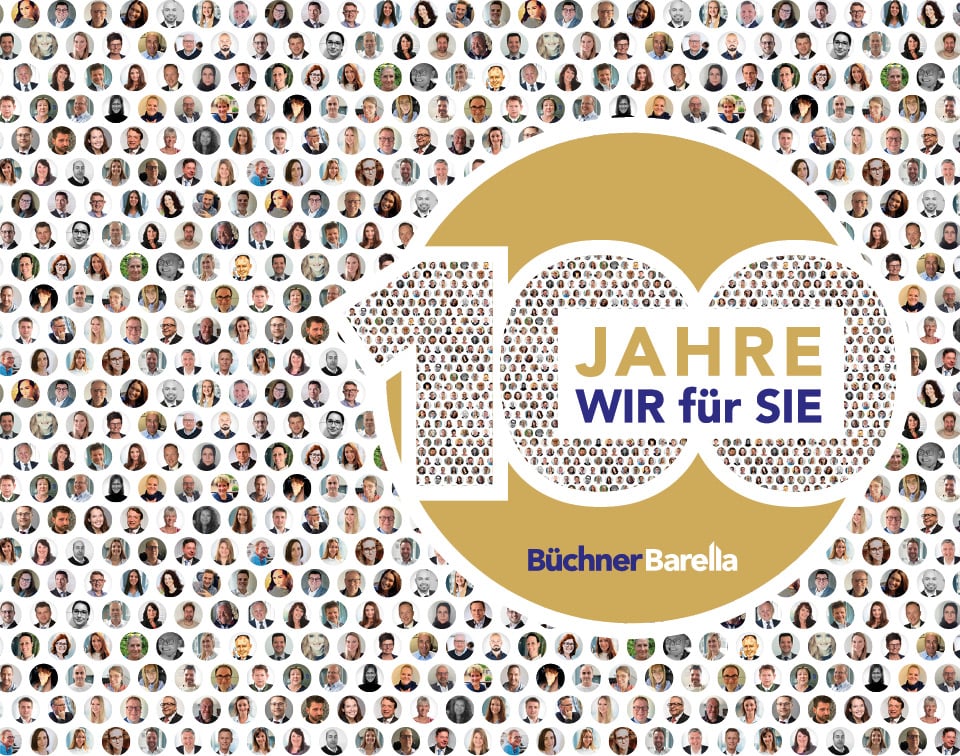 BüchnerBarella
WE'VE BEEN HERE FOR YOU FOR 100 YEARS NOW
For a century now, we've stood for insurance solutions and services that make a lot of sense. Since 1922, we have achieved and implemented a lot for our customers.
We can be proud of both our nationwide domestic and international experience in 2022, because we are now considered to be THE insurance experts for trade and industry. 100 years of pooled knowhow that we pass on to our customers.
Right from the start, we have been both family-based and owner-driven in our work, a course that has really proven its worth up to the present day. In addition to our extensive knowhow, the key to our success has also been the fact that we set great store by being close to our customers and that we always work at the same level as all our partners and employees and communicate with them openly and honestly.
Our history:
Dates, facts, developments
It all started with a small insurance agency that Ralph Büchner founded in Rochlitz in the year 1922. After the war, the company made a fresh start in Dutenhofen in 1947, now already under the company name BüchnerBarella.
Following the departure of Gerhard Barella, in 1965 it was Manfred and Helmut Kenntemich who became the company's partners.
The subsequent years
1980 to 1999
1983
The company's headquarters were moved to Gießen, which is still where the holding company is located.
1989
BüchnerBarella grew through a merger with HSA Simon.
1991
New business location opened in Dresden.
1993
To this is added a further location in Düsseldorf, which subsequently relocates to Herne.
1997
The takeover of the assurance broker Schirmer & Grundheber means new offices can be opened in Trier.
1999
Josef Holzinger, Stefan Kenntemich and Reinhard Prenzel become partners and are still running the business today.
A look at the new millennium
From 2000 to today
2001
Business location moved from Dresden to Erfurt.
2010
Offices in Leipzig and Koblenz are added.
2012
Mergers with INVERMA GmbH.
2013
Merger with the GGR Group. A new location is opened in Hamburg.
2015
New location in Bielefeld.
2016
New location in Saarbrücken.
2017
New locations opened in Cologne; foundation of the the BüchnerBarella Academy.
2018
New locations in Freiburg, Mannheim and Traunstein, the last-named by acquiring a majority shareholding in insurance broker AXON-VMZ Versicherungsmakler AG.
2020
Our location in Hamburg expands by a further 30 employees.
2021
New location in Minden.
2022
At year-end: the holding company's management team is changed. Stefan Kenntemich, Josef Holzinger and Reinhard Prenzel leave for a well-earned retirement and hand over the reins to Christina Holzinger, Joachim Lenoir, Benno Walter (Chairman of the management team) and Andreas Zelmer
2023
New location in München.